To say that some action occurs with a certain frequency or interval in Ukrainian we use the following adverbs: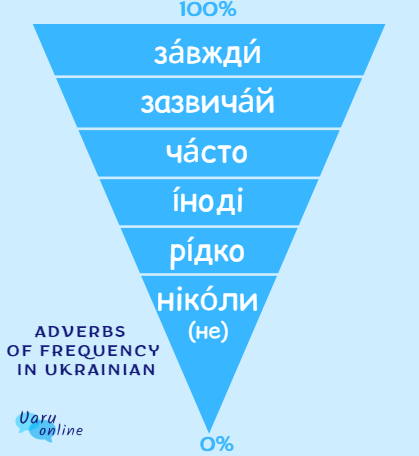 100% – За́вжди́ (always)
Synonyms: весь час (all the time), пості́йно (constantly), повсякча́с (always, constantly).
Марі́я за́вжди́ чита́є нови́ни зра́нку. – Maria always reads the news in the morning.
Олекса́ндр за́вжди́ прихо́дить вча́сно. – Oleksandr always comes on time.
Журналі́ст пості́йно шука́є нови́й матеріа́л для статті́. – A journalist is constantly looking for new material for an article.
Макси́м весь час в телефо́ні. – Maxim is on the phone all the time.
Він повсякча́с гото́вий допомогти́ дру́зям. – He is always ready to help his friends.
90% – Ма́йже за́вжди́ (almost always)
Джон ма́йже за́вжди́ хо́дить на робо́ту пі́шки. – John almost always walks to work.
90% – Зазвича́й (usually)
Зазвича́й на кані́кули ді́ти ї́здять у село́ до бабу́сі. – Usually, children go to the village to visit their grandmother on vacation.
Ми зазвича́й сні́даємо у 8 ра́нку. – We usually have breakfast at 8 am.
80% – Дуже ча́сто (very often)
Я ду́же ча́сто чита́ю нови́ни. – I read the news very often.
70% – Ча́сто (often)
Карл ча́сто хо́дить теа́тр. – Carl often goes to the theater.
Алі́на ча́сто п'є ка́ву у цьо́му кафе́. – Alina often drinks coffee in this cafe.
50% – І́ноді (sometimes)
Synonyms: і́нколи, час від ча́су, ча́сом, поде́куди, поде́коли.
Я і́ноді замовля́ю ї́жу на ви́ніс. – I sometimes order takeout pizza.
І́нколи у се́рпні дощи́ть. – Sometimes it rains in August.
Час від ча́су ми зустріча́ємо рудо́го кота́ бі́ля буди́нку. – From time to time we meet a red cat near the house.
30% – Неча́сто (not often)
Жан неча́сто ди́виться футбо́л по телеві́зору. – Jean does not often watch football on TV.
10% – Рі́дко – (rarely)
Synonyms: зрі́дка, ма́ло коли́.
Рі́дко коли́ в таку́ годи́ну тут мо́жна зустрі́ти тури́стів. – It is rare to see tourists here at such an hour.
Він зрі́дка ї́здить у відря́дження за кордо́н. – He rarely goes on business trips abroad.
5% – Ду́же рі́дко – (very rarely)
Анна ду́же рі́дко їсть виногра́д. – Anna very rarely eats grapes.
0% – Ніко́ли (never)
In Ukrainian, with "ніко́ли" the particle "не" is always used (double negation): ніколи відпочиває – ніколи не відпочиває
Соломі́я ніко́ли не дивила́ся цей фільм. – Solomia has never seen this movie.
Мико́ла ніко́ли не був у Ха́ркові. – Mykola has never been to Kharkiv.
---
Exercises:
1. Translate the sentences. – Перекладіть речення.
He rarely writes letters.
She never eats breakfast, but always has dinner.
They often go to the bar on Fridays.
She never works on Sundays.
This colleague is almost always late for meetings.
---
---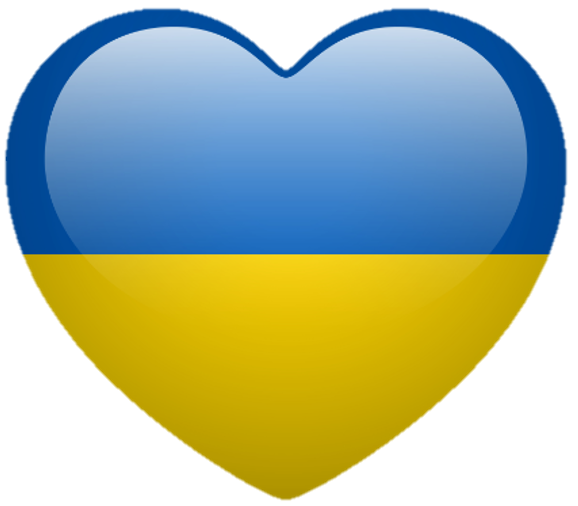 This course course will help you to start learning Ukrainian in easy and convenient way. You will learn how to read in Ukrainian and understand spoken language, learn basic grammar, vocabulary and useful phrases.
All materials (vocabulary lists, grammar explanation, texts, dialogues, audios, tests and practice exercises with answers) are on our website, so you can access them whenever you want.