Rules and List of some popular adjectives and names of colors in Ukrainian
In general adjectives are words which describe or modify another person or object in a given sentence. For example: a new house the adjective is [new] because it describes the noun [house].
In Ukrainian (as in Russian) endings of adjectives depend on the gender of noun: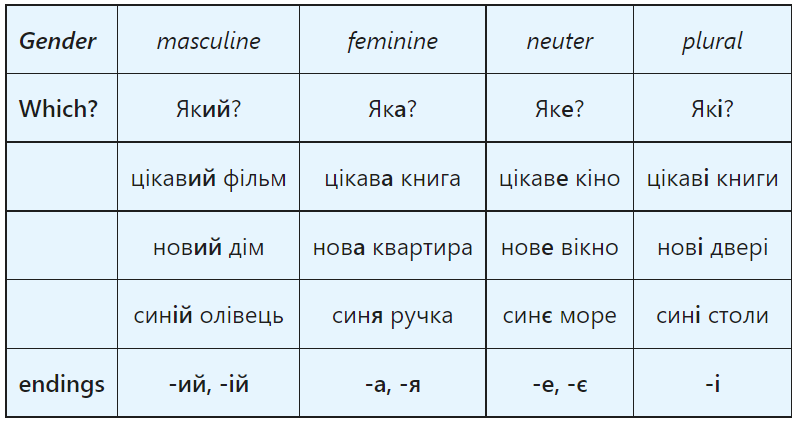 Цікава книга лежить на столі – An interesting book is on the table
Мій будинок білий – my house is white
Нові книги дорогі – new books are expensive
Note: Question "Which?" also depends on the gender of noun (see table):
Який це дім? – Це великий дім. – What kind of house is this? – This is a big house.
Яка це книга? – Це червона книга. – What is this book? – This is a red book.
---
List of some popular adjectives:
новий – new
старий – old
хороший – good
поганий – bad
великий – big
маленький – small
цікавий – interesting
гарний – pretty
красивий – beautiful
Кольори – colors
чорний – black
сірий – grey
білий – white
синій – blue
блакитний – light blue
зелений – green
жовтий – yellow
червоний – red
помаранчевий – orange
коричневий – brown
рожевий – pink
фіолетовий – violet
---
Exercise:
Use adjectives in the correct form:
(Рідний) мова
(старий) словник
(теплий) пальто
(холодний) зима
(цікавий) історії
(свілий) волосся
(великий) країна
(білий) сорочка
(маленький) вікно
(хороший) друг
(сірий) будинок
(веселий) діти
Native language
old dictionary
warm coat
cold winter
interesting stories
blow hair
big country
white shirt
small window
good friend
gray house
cheerful children
---
---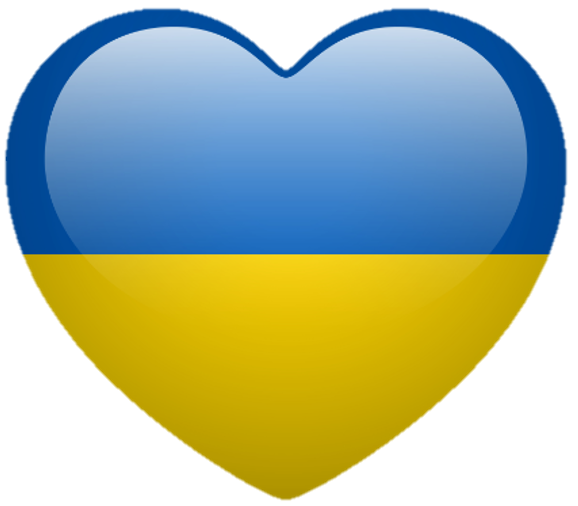 This course course will help you to start learning Ukrainian in easy and convenient way. You will learn how to read in Ukrainian and understand spoken language, learn basic grammar, vocabulary and useful phrases.
All materials (vocabulary lists, grammar explanation, texts, dialogues, audios, tests and practice exercises with answers) are on our website, so you can access them whenever you want.