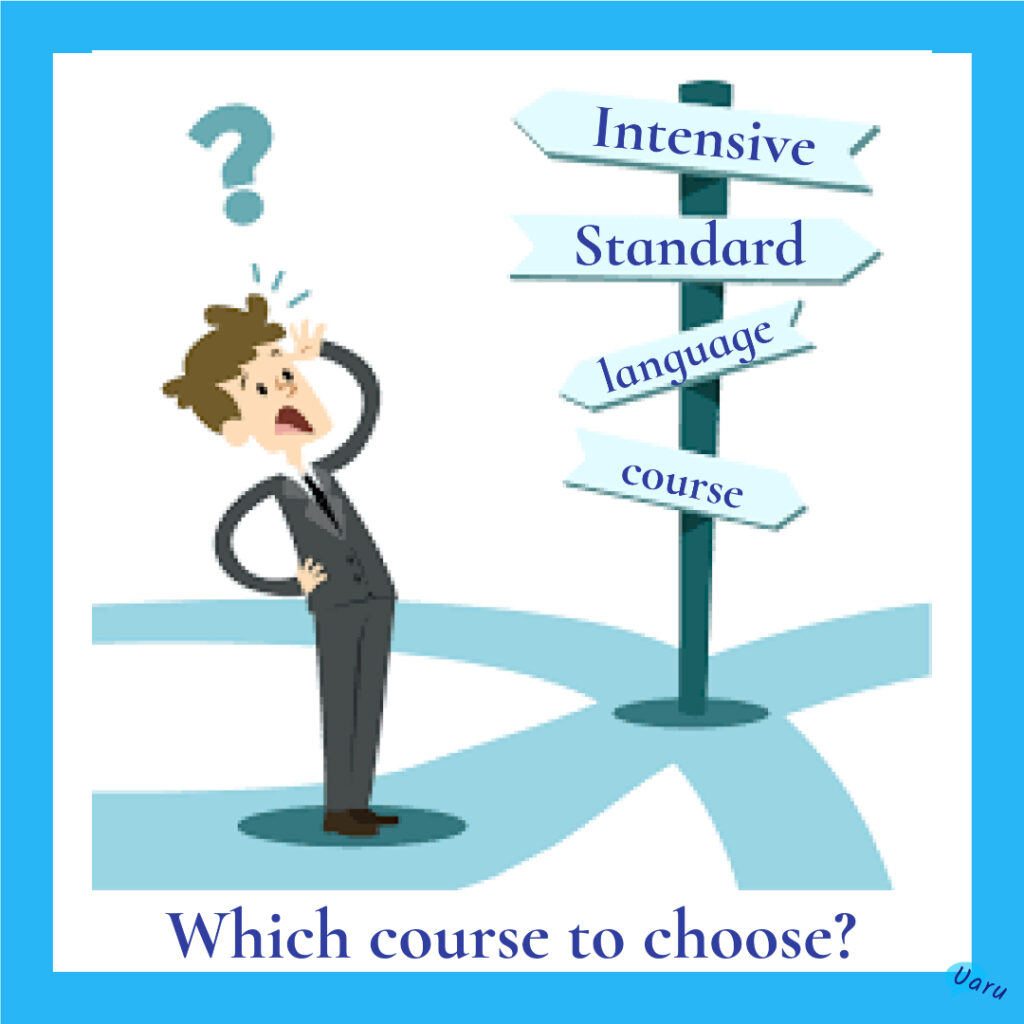 Nowadays language schools offer courses of different durations – so which one should student choose? In order to decide what type of course fits your situation best, the only way forward is to weigh up the pros and cons of each.
Standard courses
Usually the duration of standard course is 2 lessons of 90 min or 3 lessons of 60 min per week.
Learning regularity. Students engage in that language with a more consistent frequency.
Increased time for language practice. Standard courses are great choice for continuing education. Standard courses can offer more opportunities to go off-tangent and learn something connected to a recent trend or discuss the news. Such situations provide teachers with an interesting context in which to introduce new language or create conversation activities, both of which can aid the learning of the students who take part.
More time for consolidation reviewing of the all material, vocabulary and grammar passed in the lesson at home. Home reviewing the day's lessons is an integral part of learning.
Intensive courses
Intensive course means 5 lessons of 180 min per week or more.
Meeting immediate targets and goals. Intensive courses have usually served their purpose when students have an immediate short term goal (trips, interview, tests). Of course, you cannot learn a language in a week, but this week can help student to achieve some goal or quickly refresh in memory everything that he taught before.
Vacation for learning. If you have a week away from work it is a good opportunity to fully concentrate on learning and focus on achieving your language learning goal.
Lack of time for consolidation. Learning new language isn´t only lessons, it is also consolidation of the all material, vocabulary and grammar passed in the lesson at home. Not always after three or more hours of lessons every day, students want to study at home. But home reviewing the day's lessons makes learning more efficient.
Less opportunities to connect with the language regularly. While an intensive course allows to pick up a lot of language in a short time, some students encounter problems practicing when the lessons stop. So to make the intensive course work, you should continue practicing this language.
In addition to Standard and Intensive courses we also offer our students a third type of course Semi-intensive (3 lessons of 120 min per week) that retains the benefits of both standard and intensive courses.
To learn more about our Ukrainian and Russian courses you can here.
To find which course best suits you, feel free to consult with our managers and teachers. We will help you to choose the course that suits you best according to your wishes and goals.
Subscribe to our newsletter!