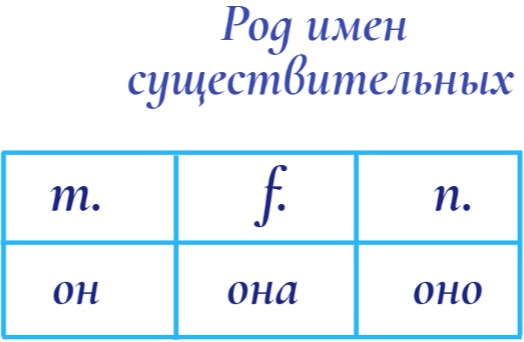 The nouns in Russian language are divided into three genders: masculine, feminine and neuter. But how to understand what gender each noun has? The answer is: look at the word's ending.
The vast majority of nouns in Russian have gender according to the ending of their Nominative case form (you will find it in the dictionary)
Here are some basic rules, although exceptions exist:
Masculine gender:
(Мужской род)
Ending
Example
–consonant
дом
телефо́н
стол компью́тер
-й
чай
музе́й
-ь
день
конь
Exceptions:
ко́фе
Male people
мужчи́на
пáпа
дя́дя
де́душка etc.
Feminine gender:
(Женский род)
Ending
Example
-a
маши́на
кни́га пробле́ма
-я
семья́
неде́ля
-ия
Испа́ния
-ь
ночь
Neuter gender:
(Средний род)
Ending
Example
-o
окно́
не́бо
-e
со́лнце
мо́ре
-ие
зада́ние
-мя
вре́мя
и́мя
Note:
Some words can be masculine and feminine at the same time: колле́га
Nouns ending in the soft sign -ь can be either masculine or feminine: день (masculine), ночь (feminine). You should memorize them.
Let's practice! Task on Gender of Nouns Russian in our Instagram.
---
How to make plural forms of nouns
Subscribe to our newsletter!